Adaptronic ECU eMod012 RX7 Series 8
The Adaptronic 

eMod012 

RX7 Series 8  modular ECU.

SKU: eMod012

The Adaptronic Modular plug and play ECU for the Mazda RX7 Series 7/8.

Note: Some Series 7 vehicles came with connectors and wiring which was the same as this Series 8 ECU. Later ones came with Series 8 style connectors and so if you have a Series 7 vehicle you must check to see which ECU is correct for you. If in doubt, please get in touch.

The ECU plugs directly into the factory loom. It has a 4 bar on-board map sensor (and a 4 bar exhaust manifold pressure sensor) and has additional inputs and outputs available on unused pins in the factory connector. The additional pins you have access to give you the following options:

An additional 2 injector outputs
An additional O2 input, and 2 additional 0-5V inputs for logging or other functions like sequential box strain gauges
Additional ignition output for conversion to direct fire
Oil pressure, fuel pressure and oil temperature inputs (plus we read the fuel temperature input and use that in the fuel density calculation)
CAN (Wideband lambda can be connected via analogue input, or via serial.)

On-board the ECU is a 3 axis accelerometer and a 3 axis rate gyro

The base eMod012 ECU can also be expanded or upgraded to use one of the following boards:

DBW / e-throttle controller (shown below)
Mini Output Board (6 x push-pull aux) (shown below)
Mini Analogue Input Board (4 x analogue inputs) (shown below)
Mini Real-Time Input (6 x inputs) – additional 2 x CAS, 3 x VSS, 1 x flex (shown below)
Lambda Controller (soon to be available)
EGT Inputs (soon to be available)

The ECU arrives with a start-up map pre-loaded making it a plug and play solution.

The EUGENE software is a free download (available at www.adaptronic.com.au)

ECUs currently have a 1 week lead time.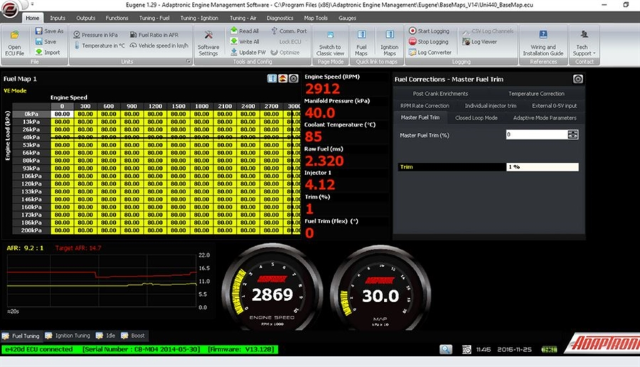 Shipping

Parcel Weight: Medium
Shipping quoted at checkout is for mainland UK Zone A & B only.
For Highlands, Islands and international destinations please email for prices.
Please note that postage at checkout only shows the value for the first item selected. To minimise postage costs for multiple items please email for costs.
Options
Fitting service available.

Delivery
Typically 7/10 working days, mainland UK Zone A & B only. 
Note.
These parts are special order only, they are not able to be cancelled once ordered and are non returnable unless faulty.

Returns Policy
Please see our returns policy Returns Policy 
 
---