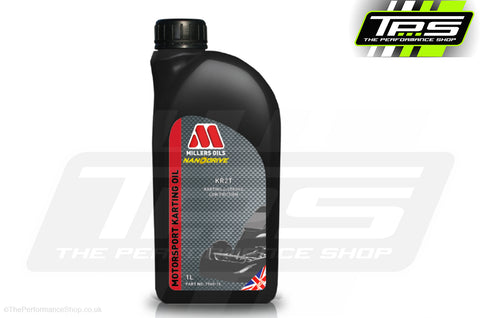 Millers KR2T Premix Oil 1 litre
Millers KR2T Premix Oil 1 litre
Millers KR2T is a premix oil designed to improve lubrication for your rotary engines internal seals, as well as clean and protect against harmful carbon build up.
IF WE EXPECT GOOD LONGEVITY AND TOP PERFORMANCE FROM OUR ROTARY ENGINES IT IS CLEAR THAT EXTRA LUBRICANT MUST BE ADDED TO THE FUEL.

This is why; the oil metering system is responsible for lubricating the delicate apex seals, compression seals and housing surfaces that are common to every rotary engine. Oil is fed from the engine oiling system (oil-pan) to a variable ratio-metering pump, then it's injected into the engine where it partially blends with the onrushing air-fuel charge.
We know excessive wear on apex and compression seals as well as critical housing surfaces is caused from inadequate lubrication. What's all this mean? Without proper lubrication friction, heat and today's fuels will likely cause premature failure of some expensive engine parts, great for Mazda's profits but not good for you.
Benefits include:
Extended engine life
Reduced internal friction and wear
Less drag means more power
Blends completely with fuel will not separate
Easier starting
Postage
Shipping quoted at checkout is for mainland UK only and includes VAT.
For non-mainland and international destinations please email for prices.
Please note that postage at checkout only shows the value for the first item selected. To minimise postage costs for multiple items please email for costs.
Delivery
Typically 2/3 working days, mainland UK only.
Returns Policy
Please see our returns policy Returns Policy
---
We Also Recommend
---