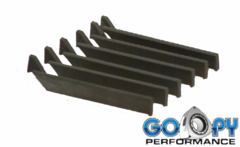 Goopy High Performance RX8 Apex Seal set
Direct replacement Apex seal for the RX-8 at a price less than the stock Mazda Apex seal.
This makes these High Performance Apex seals not only ideal for any Turbo or Supercharged RX-8 but also ANY standard or tuned normally aspirated Renesis engine.
Recommend .0015" of clearance between the apex seal and the rotor slot for all applications, boosted or naturally aspirated.
Renowned for their reliability by withstanding up to 50psi in Drag Racing.
2 mm apex seals are .075" thick and you should be able to slide a .0015" feeler gauge into the rotor apex slot with a new apex seal in place.

Sold as a set of 6 these are a direct replacement Apex seal to fit, RX-8 192-231-Auto and R3 engines 
---
We Also Recommend
---