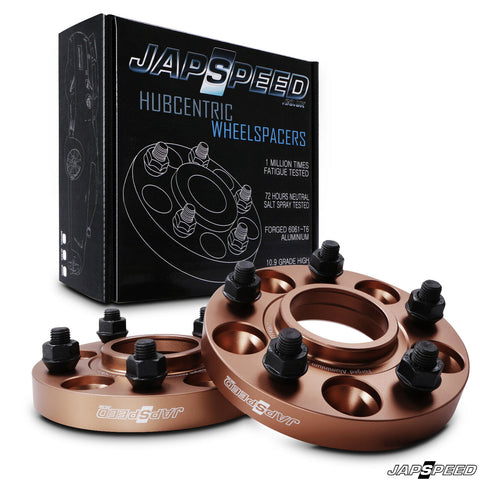 20mm Wheel Spacers x2
JAPSPEED ALLOY HUBCENTRIC 20mm 5x114.3 WHEEL SPACERS FOR MAZDA 3 6 MPS RX7 RX8
---


Specification

Bolt Pattern

5x114.3

Thread Pitch

M12x1.5

Thickness

20mm

Centre Bore

67.1mm
Manufactured from high strength, lightweight aircraft grade aluminium alloy

Forged hard anodised for durability and corrosion protection

Limited life range tested for wheel bolts/studs (1 million times) in accordance with ISO3800

Strength tested for applications (bolt/stud/nut) in accordance to ISO0898-6, SAEJ429, SAEJ995

Anti-rust tested (NSS 72hrs) for applications (bolt/stud/nut) in accordance to ISO9227

Designed to correct brake caliper-wheel clearance issues often encountered when fitting big brake kits

Engineered to add inner wheel arch and suspension clearance

Improves handling

Noticeably improves wheel/tyre spacing within the wheel arch

Includes fitting instructions

Brand new

Supplied as a pair
Please Note
Vehicles existing wheel studs can be longer than the spacer and may require cutting unless the rims are recessed.
Shipping
Shipping quoted at checkout is for mainland UK Zone A & B only.
For Highlands, Islands and international destinations please email for prices.
Please note that postage at checkout only shows the value for the first item selected. To minimise postage costs for multiple items please email for costs.
Options
Fitting service available.

Delivery
Typically 3/5 working days, mainland UK only. 

Returns Policy
Please see our returns policy Returns Policy 
Common fitments (for reference only):
Mazda 3 (2003-2009)
Mazda 3 (2009-2013)
Mazda 3 (2013-)
Mazda 3 MPS (2006-2009)
Mazda 3 MPS (2009-)
Mazda 323 5 bolt (1994-2003)
Mazda 5 (2010-)
Mazda 5 (2010-)
Mazda 6 (2002-2008)
Mazda 6 (2008-2013)
Mazda 6 (2013-)
Mazda 6 MPS (2006-2008)
Mazda 626 (1983-1997)
Mazda 626 (1997-2002)
Mazda 929 (1987-1992)
Mazda CX-3 (2015-)
Mazda CX-5 (2012-)
CX-7 (2007-)
Mazda CX-9 (2007-)
Mazda MPV (1999-2002)
Mazda MPV (2002-2006)
Mazda MX-5 (2005-)
Mazda MX-6 (1992-1997)
Mazda Premacy (1999-2005)
Mazda RX-7 (1992-2002)
Mazda RX-8 (2003-2012)
Mazda Tribute (2001-2006)
Mazda Xedos 6.9 (1992-2000)
Mitsubishi 3000GT (1992-1999)
Mitsubishi ASX (2010-)
Mitsubishi Eclipse (1990-2005)
Mitsubishi FTO (1994-2000)
Mitsubishi Grandis (2004-2010)
Mitsubishi L300 2WD (1986-1994)
Mitsubishi L400 2WD (1994-2007)
Mitsubishi Lancer (2008-)
Mitsubishi Lancer 2.0i (2003-2008)
Mitsubishi Lancer EVO IX (2006-2008)
Mitsubishi Lancer EVO V (1998-1998)
Mitsubishi Lancer EVO IV (1999-2001)
Mitsubishi Lancer EVO VII (2001-2002)
Mitsubishi Lancer EVO VIII (2003-2005)
Mitsubishi Lancer EVO X (2008-)
Mitsubishi Outlander (2003-2007)
Mitsubishi Outlander (2007-2012)
Mitsubishi Outlander (2012-)
Mitsubishi Pajero Pinin (2000-2007)
Mitsubishi Sigma (1991-1997)
Mitsubishi Spacer Gear (1995-2006)
Mitsubishi Space Wagon (1999-2004)
Peugeot 4007 (2007-)
Peugeot 4008 (2012-)
Toyota Hi-Ace 2WD (1989-1995)
Toyota Hi-Lux 2WD (1986-2005)
Toyota Hi-Lux 2WD (2006-)
Chrysler Sebring (2007-)
Citroen C-Crosser (2007-2012)
Citroen C4 Aircross (2012-)
Dodge Avenger (2007-)
Dodge Caliber (2006-)
Ferrari 458 Italia (2010-)
Ferrari 458 Spider (2011-)
Ferrari 488 GTB (2015-)
Ferrari 488 Spider (2016-)
Ferrari 812 Superfast (2017-)
Ferrari California (2009-)
Ferrari F12 tdf (2015-)
Ferrari FF (2011-2017)
Ferrari GTC4 Lusso (2016-)
Ford Probe (1993-1998)
Hyundai Coupe (2002-)
Hyundai Genesis (2008-)
Hyundai Grandeur (2005-2011)
Hyundai H100 (1994-2001)
Hyundai i30 (2007-2012)
Hyundai i30 (2012-)
Hyundai i40 (2011-)
Hyundai ix20 (2010-)
Hyundai ix35 (2010-)
Hyundai ix55 (2009-)
Hyundai Santa Fe (2001-2006)
Hyundai Santa Fe (2006-2012)
Hyundai Santa Fe (2012-)
Hyundai Sonata (2005-2010)
Hyundai Trajet (1999-2008)
Hyundai Tucson (2004-2010)
Hyundai Tucson (2015-)
Hyundai Veloster (2011-)
Hyundai XG (2000-2006)
Jeep Compass (2006-)
Jeep Patriot (2007-)
Kia Amanti (2002-2010)
Kia Carens (2006-)
Kia Carnival (1999-2006)
Kia Ceed GT (2013-)
Kia Ceed (2007-2012)
Kia Ceed (2012-)
Kia Magentis (2005-)
Kia Niro (2016-)
Kia Opirus (2002-2010)
Kia Optima (2005-)
Kia Pro Ceed (2008-2012)
Kia Sorento (2009-)
Kia Soul (2009-)
Kia Sportage (2004-2010)
Kia Sportage (2010-)
Kia Venga (2010-)
Lancia Flavia (2011-)
Maserati Ghibli (2013-)
Maserati Granconvertible (2010-)
Maserati Granturismo (2007-)
Maserati Quatroporte (2013-)
---
We Also Recommend
---