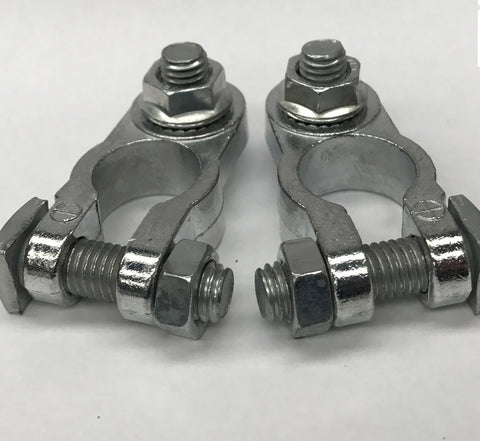 Mazda RX8 Battery Terminal Clamps (Replacement)
Don't you just hate it when you find that the OEM Battery Terminal Clamps won't clamp on the Battery, even though you've done them up tight!! The OEM Terminals unfortunately stretch and the only way to get them to tighten is by shoving a nail between the the Terminal and the Clamp. It works but unfortunately you reduce the amount of surface contact between the Clamp and the Battery, on 8's this is not a good thing as you need as much starting power as possible. The best solution is to replace the OEM Clamps, either by new OEM ones and pay Mazda pricing! or use the solid robust terminal we have available. These terminals are cast, eliminating the stretching you get with the OEM units. They're a snug fit to ensure best possible connectivity.
M8 Nut/Bolt
Marked + & -
Cast Clamps
+ Clamp size nom:19mm
- Clamp size nom:17mm
Note: To extend the life, performance and to avoid corrosion, its recommended that you put a thin layer of grease over the terminals and Clamps after fixing.
Postage
Shipping quoted at checkout is for mainland UK only (Excludes Highlands) and includes VAT.
For non-mainland, Highland and international destinations please email for prices.
Please note that postage at checkout only shows the value for the first item selected. To minimise postage costs for multiple items please email for costs. 

Delivery
Typically 2/3 working days, mainland UK only.

Returns Policy
Please see our returns policy Returns Policy
---
We Also Recommend
---